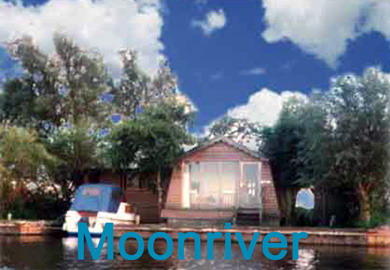 Moonriver
Our riverside holiday home offers superb waterside breaks and is situated on the banks of the River Thurne. We are surrounded by open countryside with the front directly overlooking the river with uninterrupted views, both back and front, across open farmland. The only buildings that you can see from the holiday home are very old windmills. We are in The Broads which is part of the family of National Parks of Britain / Nature Reserve where the owners have logged seeing over 40 species of birds in the immediate vicinity.
The self catering holiday home is situated over a mile upstream of the notoriously small and ancient bridge at Potter Heigham, Norfolk Broads. Fortunately the bridge prevents the larger hire craft from coming to Martham so the river is much quieter and less commercialised here. From the holiday home the river leads up to Martham and Somerton Broad, along Candle Dyke to Heigham Sound and the finest sailing and fishing in Hickling Broad and Horsey Broad.
The surrounding fields are in The Broads which is part of the family of National Parks of Britain / Nature Reserve / Potter Wetland, or sheep pasture.
Our self catering holiday rental cottage is available all year round for a waterside break holiday ranging from a short break / weekend break to a week or mores stay. I am sure that you like us will want to return to our self catering holiday cottage on the Norfolk Broads.
The small, red roofed hut that can be seen across the fields is used by local eel fishermen who have "Ancient Rights" to fish in the area.
Facilities
Moonriver Cottage is a river front self catering holiday cottage which is approached via a flat concrete path 50 yards from the car park.
Moonriver Cottage is the personal self catering holiday home of its owner, it has been recently fully refurbished. It sleeps 4 / 6 people and is a great location for fishing, sailing, boating, beach, water sports, walking, bird watching, cycling, horse riding and relaxing holidays, or those wishing to explore Norfolk.  Moonriver Cottage is a self catering holiday home which gives you a great base to explore the Norfolk Broads, the coast and sand dune beaches. There are a considerable number of past times to enjoy such as sailing, canoe, beaches, swimming, golf, fishing, walking, National Trust houses, National Park, horse riding, Norwich, Great Yarmouth and gardens, etc. The coastal sand dunes can be seen glistening on the horizon.
Free WiFi – MoMo – Mobile Modem – Broadband
In April 2021 we will replace the current broadband / WiFi solution with a new one using the "3" mobile phone data only network to give our guests FREE unlimited broadband usage.  It will be linked to a roof aerial to ensure great reception and speeds.
Electric Car Charging
If you pay for car parking in Martham Boats Car Park you can also pay to charge your electric car. This is a great facility in such a rural location. Please contact the Martham Boats Office.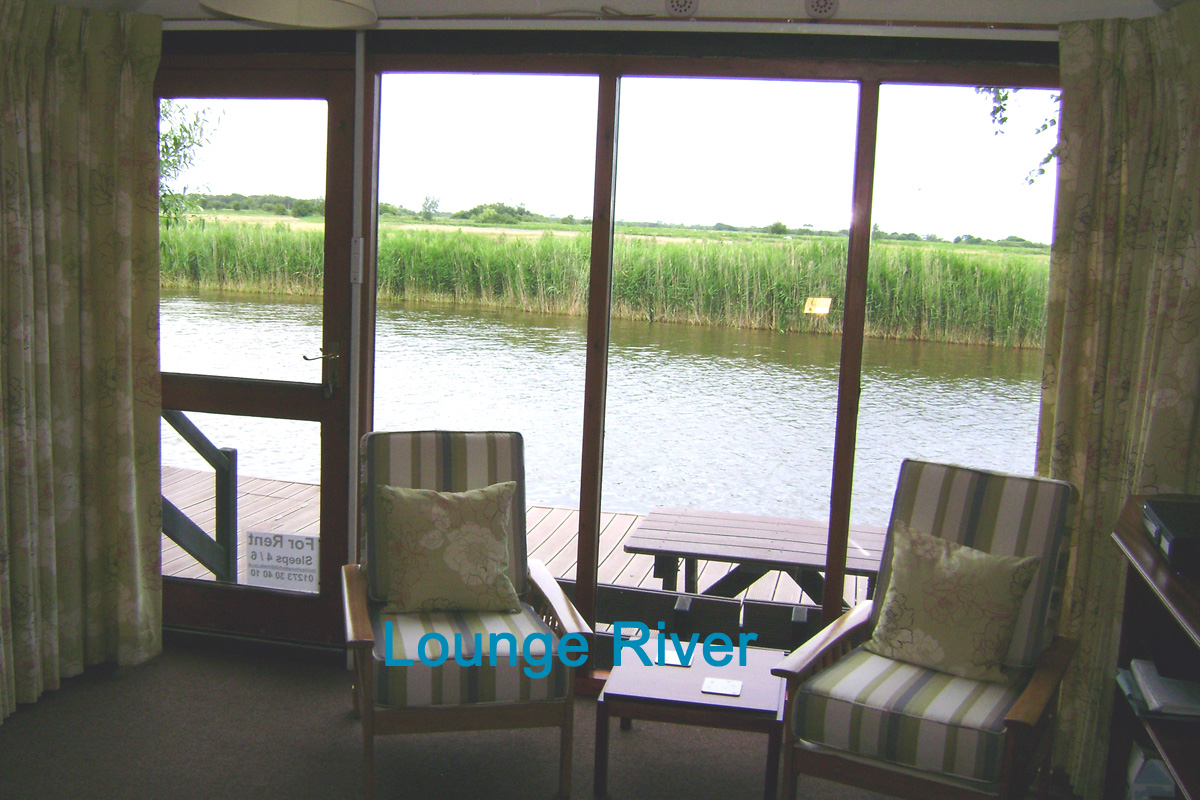 FREE WiFi Lounge
The Lounge enjoys spectacular panoramic views over the River Thurne and The Broads which is part of the family of National Parks of Britain / Nature Reserve with the sand dunes glistening in the sunshine on the horizon. You can almost go fishing from the Lounge as you can see you float from their.
The cottage has a 3 piece suite, large colour SMART television, DVD, CD, Freeview, FreeSat Humax Tuner, Sky+ dish & twin cable so you can bring your own Sky+ box or FreeSat box, FREE WiFi / MoMo – Mobile Broadband, a selection of books, dining table & chairs, 3Kwh electric heater, radio, a heater / dehumidifier and electric fires. Their is a sofa bed, the base mattress is sprung (45″ / 113cms Wide, 71″ / 179cms Long) and Single put you up bed.
A colour/sound CCTV Bird Box is located on the tree next to the boat dyke so that you can watch what the birds are doing on their own TV channel in Moonriver. The CCTV Bird Box has a day and night vision camera with infa-red lights that do not disturb the nesting birds. A live sound/picture TV show 24/7 during the nesting season.
We have provided a variety of books, maps, guides, boxed games, jigsaws, chess set, and details of visitor attractions for your enjoyment.
We have installed, 2020, a state of the art mobile phone signal booster that helps to improve the signal of all mobile phone networks.
The Victoria Inn, Martham is the closest WiFi, the modem is called "The Cloud".
Safe
We have installed a combination safe to keep your valuables.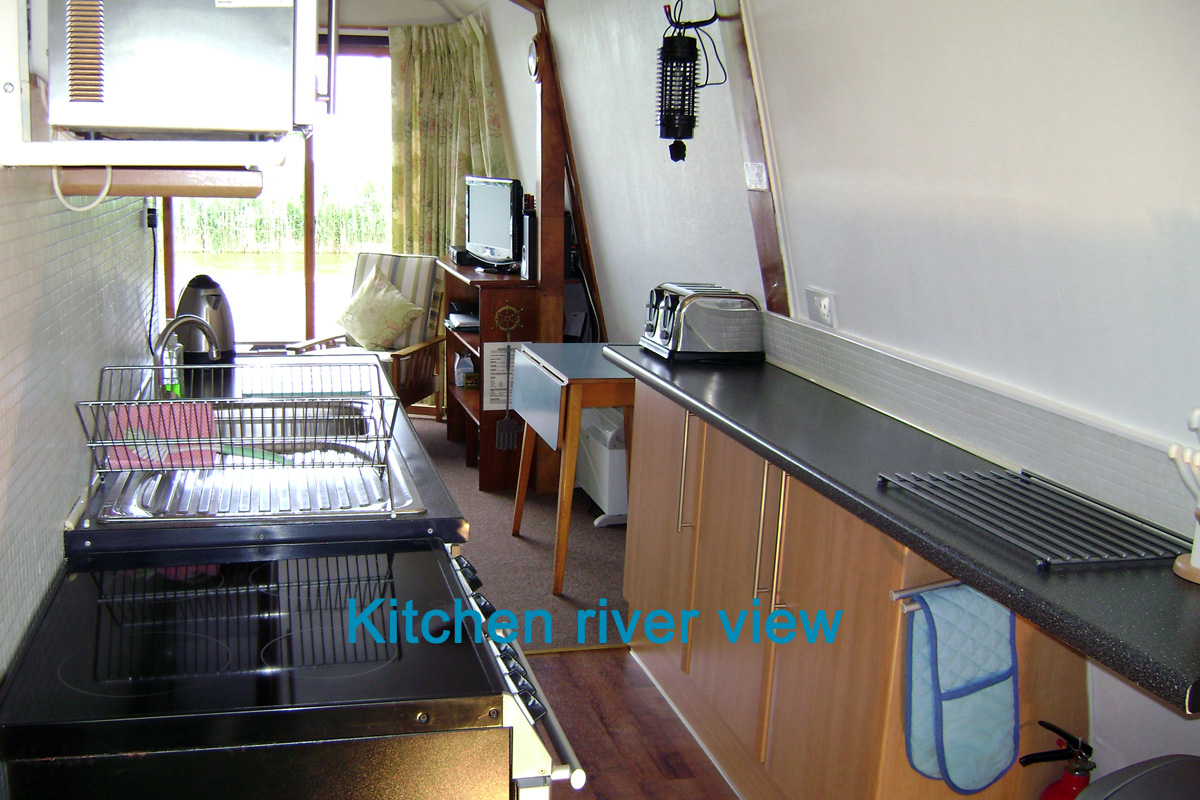 Kitchen
The kitchen also enjoys wonderful views of the River Thurne and The Broads which is part of the family of National Parks of Britain / Nature Reserve it enables you to enjoy your self catering holiday cottage. It has a range of modern cupboards and electric ceramic hob, fan oven, grill, fridge with freezer compartment, microwave, sink, cupboards, hot water heater, cutlery, crockery, kitchen utensils, iron, ironing board, etc. x2 USB Charger sockets are in the kitchen. All the cutlery and crockery are matching sets, our visitors tell us that the kitchen is as well equipped as their own homes.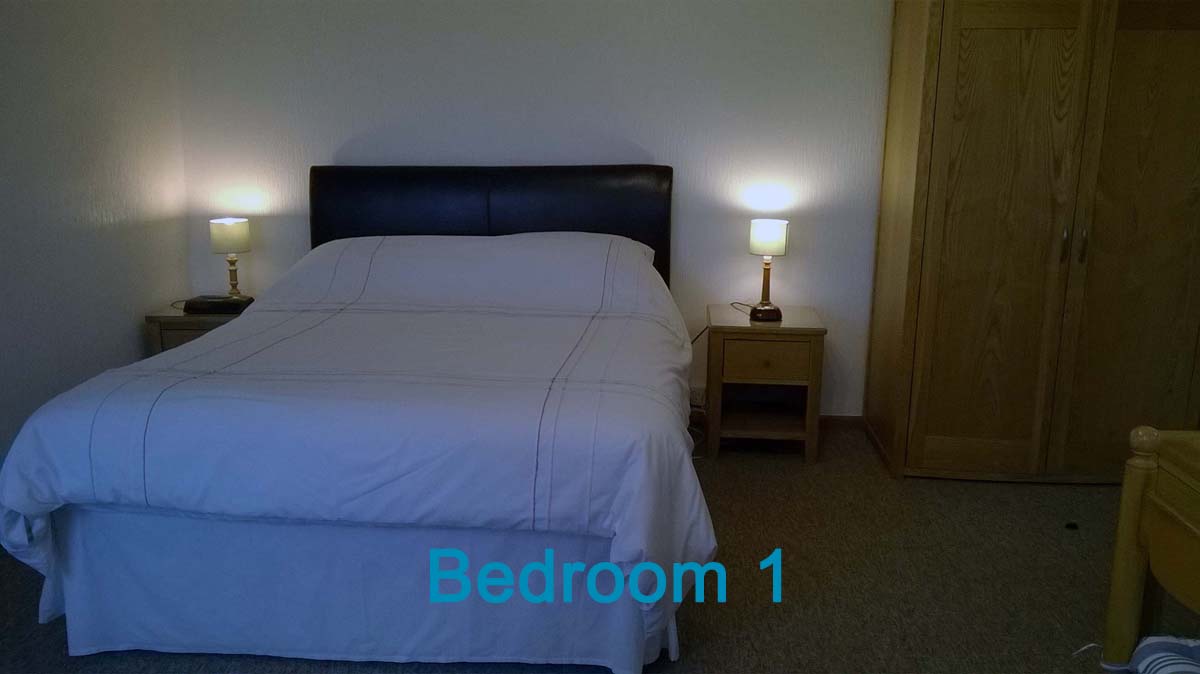 Bedroom 1
The main bedroom also has views of the River Thurne and The Broads which is part of the family of National Parks of Britain / Nature Reserve. It has a King Size bed, oak wardrobe, large oak dressing table, oak chest of drawers, electric heater, two radio alarm clocks, hair dryer, rocking chair, two mirrors, two oak bedside cabinets and bedside lights.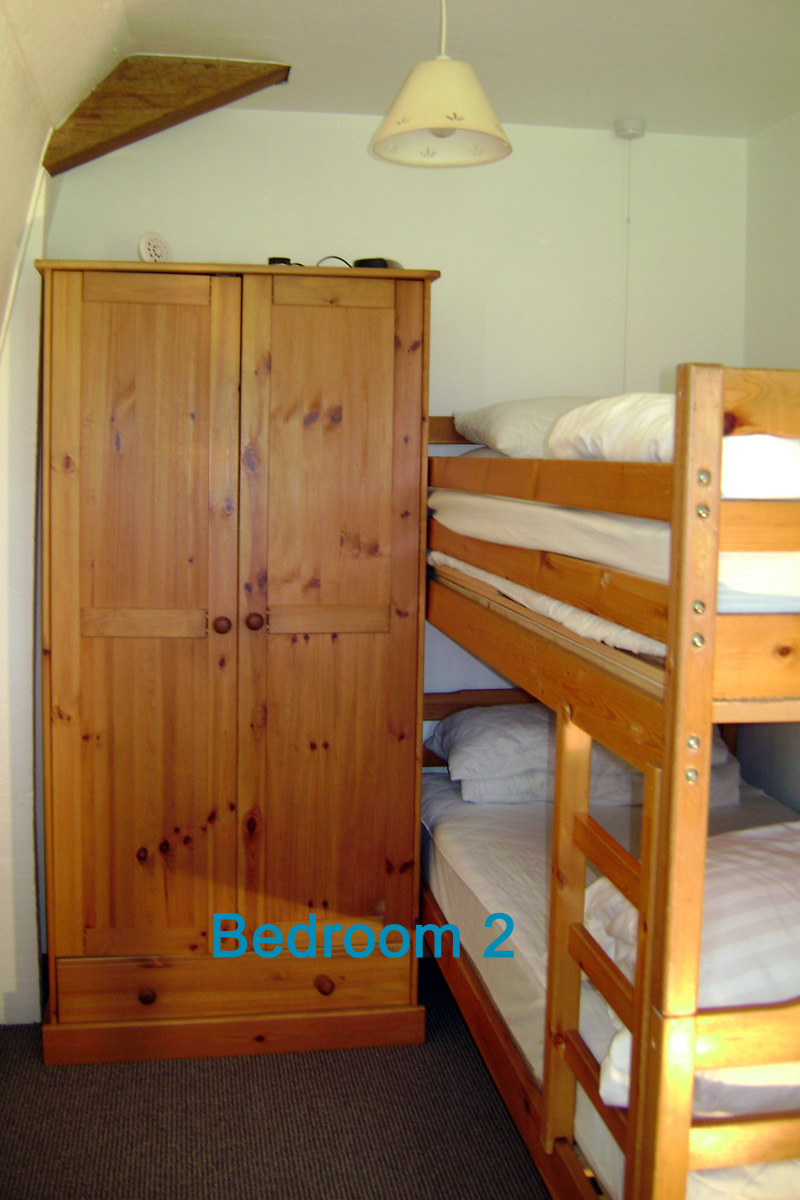 Bedroom 2
The second bedroom has views over farmland.  It has a large bunk bed with wardrobe, chest of drawers, electric heater, radio alarm clock and bedside light.  On the wall is a full size OS Map of the area, the location of the various mobile phone networks are marked on the map.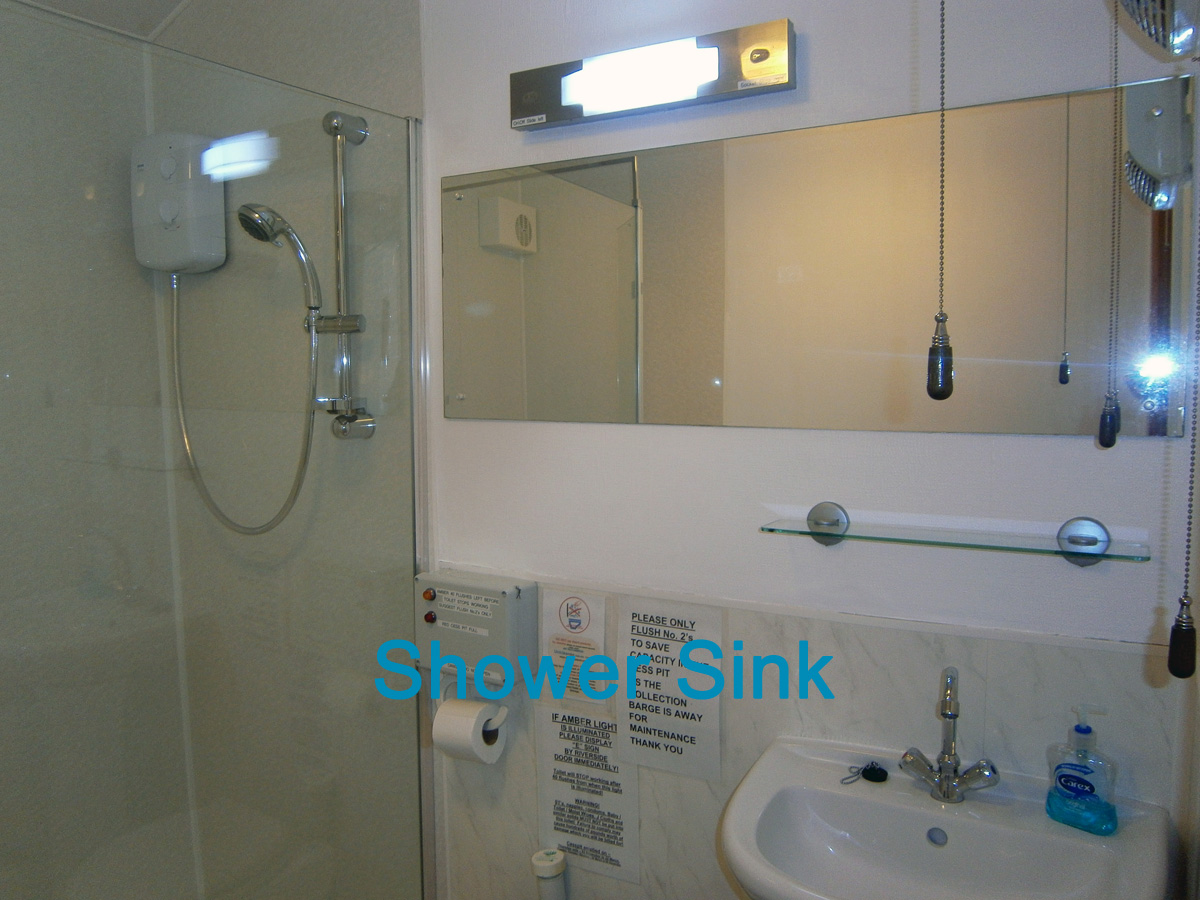 Shower / Toilet
The shower / toilet room has a double sized shower cubicle with electric shower 10.5Kwh, flush toilet, sink H&C water, electric fan heater, electric towel rail, large mirror, shaver point, xpelair fan. Sink with vanity unit.  More images are available on the photographs page.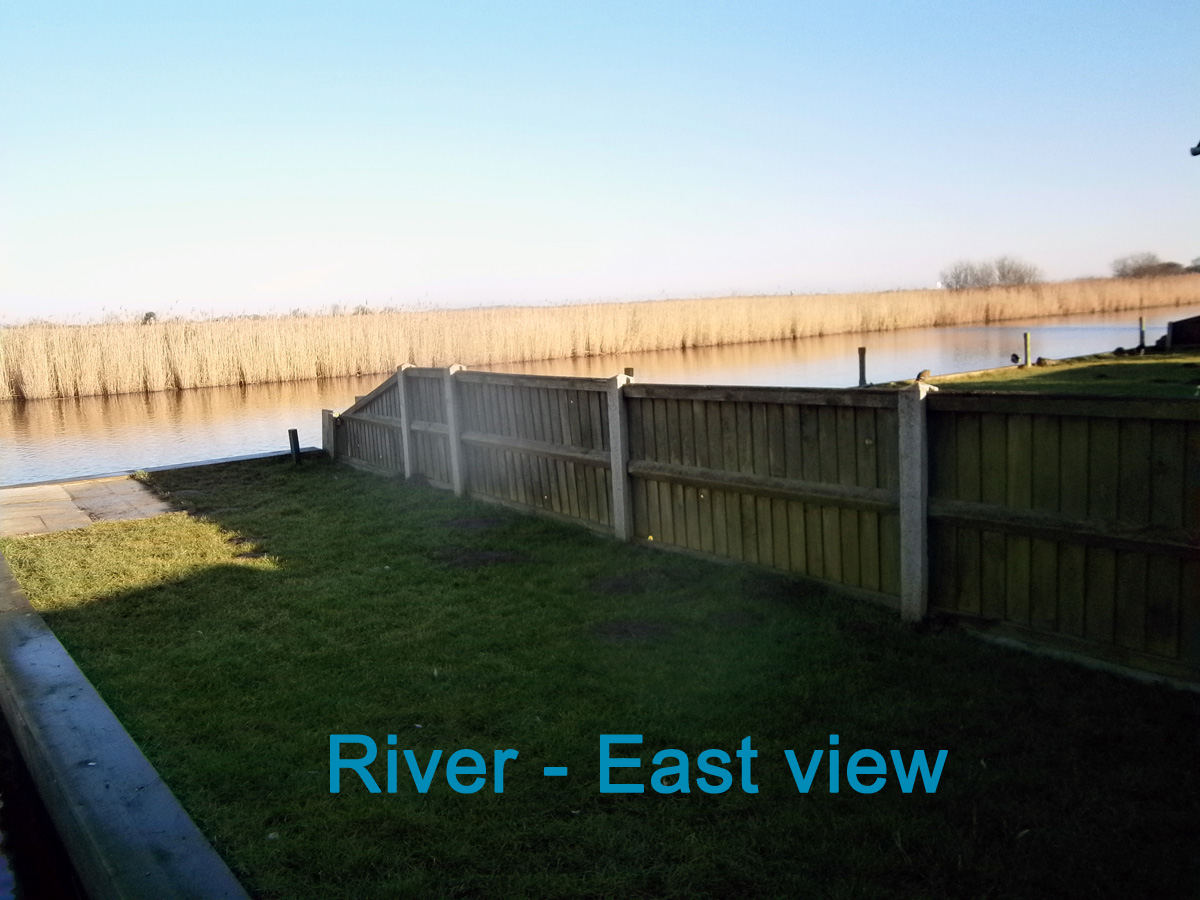 Garden
There is a small garden on the riverbank of the River Thurne which is 60′ wide with space for 3/4 fishermen, with lawn and trees, we enjoy uninterrupted panoramic views and the sun from late morning to sunset!  The whole family can enjoy their holiday in this peaceful location. Most of the garden has non slip decking made from recycled plastic bottles so it doesn't splinter, the gaps between each board are 4mm. We have left the other side of the boat dyke as lawn with paved fishing area.  The garden is fenced in on three sides, not on the water frontage.
We have erected a large tackle store which has a bait fridge with freezer compartment, light, power point, bait tables, ground bait buckets, etc. It is locked with two padlocks but we do not take responsibility for anything kept inside the tackle store. We have also placed a large LED exterior floodlight on the holiday cottage which illuminates the garden and river using a switch in the Lounge. LED floodlights do not attract midges.
We have a large four wheeled trolley to take your luggage, fishing tackle to / from your car.
There is a large picnic table and two bench seats.
The garden is great for bird watching, you might like to buy some bird feeders from Lathams and watch to 40+ varieties coming to feed.
A "wetland nature reserve" called Potter Wetland has been built on the land on the other side of the river from us, so please bring your binoculars as you will see lots of wildlife. Full details on the "Local Information" page and an aerial image of it on the Exterior Images page. A new home for Bittens, Marsh Harriers, Owls, etc.
Their is a wellington boot rack by the river door.
Car Parking
50 yards along a flat concrete path is a car park, this is operated by Martham Boats / MBBDC, the local boatyard, which charge £16 pw (August 2020). If you pay to use Martham Boats Car Park you can also pay to use their charging posts, 13amp 3Kwh, please contact Martham Boats Office.  If you want a day boat during your stay it is best to pre-book with Martham Boats.
The flat concrete footpath is not illuminated, it is wide enough for a wheelchair, or our large luggage trolley.
Slipway
The boatyard's slipway, adjacent to the car park, may be used for a fee charged by the boatyard, £15 per launch or recovery (2022) – Martham Boats, MBBDC.
Please note that if you are using your own boat then you will have to pay the Broads Authority a fee its use on the Norfolk Broads, please look at the Fee page on their website.
http://www.broads-authority.gov.uk/boating/tolls-and-registration.html
Moorings
Small dinghies, or inflatables belonging to the chalet tenants may be pulled out onto the lawn. Larger craft may be moored on the river frontage at your own risk, please use fenders on both sides of your boat. We do not offer our boat dyke as a mooring as our gardener uses it.
If you want to know the Boating Fees / Licence charged by the Broads Authority the please check this link –
http://www.broads-authority.gov.uk/boating/tolls-and-registration.html
A wide variety of boats can be hired locally.
Hire Boats
Our boats are not for hire, and are not included in the attached Hire Charge.
Diesel / electric Day Boats, sailing boats and dinghies may be hired from the local boatyard, Martham Boats. May I recommend that you pre book your day boat asap no matter what time of year you are visiting Moonriver holiday cottage, even in Nov. they are very busy.
Fishing
The following freshwater fish can be caught from the garden of the chalet: Bream, Roach, Rudd, Carp, Pike, Perch, Ruff, Eels, Tench and the very occasional Trout. Pike of 42 & 36 lbs have been caught locally.  The best fish from the garden have been, Bream 9+lbs, Carp 10lbs, Pike 26 & 29lbs, Roach 2.3 lbs, Perch 1.5 lbs, Gudgeon 3ozs, etc.  This year fishermen have caught 100 lbs bags of Bream every evening from our garden.
Some of the best fishing is during "slack water", during the hour that the river stops moving when the High or Low tide is at its peak, slack water occurs four times per day.  The sea / salt water does not reach our section of the River Thurne as we are at its head water, but the river rises / falls up to 18″ as you will see on the river bank piles.
The closest fishing tackle shop is `Lathams` of Potter Heigham, this can definitely be classified as a `Fishing Tackle Paradise` as it stocks everything from fresh and frozen baits to rods, reels and accessories – the prices are very good.  Great baits are lob worm, canned sweet corn and bread flake, please do not keep you baits inside our holiday home as a bait fridge is kept in the garden tackle store.
A fishing tackle store is in the garden, 8`Wide x 4`Height x 4`Deep, which is large enough to take all your rod bags, tackle boxes, ground bait buckets, suitcases, etc.  It also has a bait fridge with freezer compartment, and a light on a double power socket.  This facility is in the garden so as to make it easier for you to access your fishing tackle at any time day or night.  It has 2 padlocks to help protect your items.  We have also installed a powerful LED flood light, it doesn't attract midges, which will illuminate the garden and river should you wish to use it.  A past visitor has very kindly left 2 swing bins for ground bait.
We improve our holiday home every year so that sailors, birdwatchers, fishermen, walkers, holidaymakers, etc will enjoy their holiday and want to return.  If we don`t offer what you want please tell us and we will try and offer it in future!
Candle Dyke, White Lees, Martham Floating Bridge Pool, Martham Board and other excellent fishing marks are within a few minutes of the chalet, all of which regularly feature in the Angling Press.
The Kings Arms, Martham – www.TheKingsArmsMartham.co.uk
Now that you have had an enjoyable day on the river why not pop into the local pub in Martham for a great drink and a freshly made bite to eat.  A great licensee took over in 2011 and now its all worth a good relaxing evening.
Coarse Fishing Season
National coarse fishing season 16 June to 15 March inclusive on all flowing waters / rivers.
This is the National fishing season restriction on all flowing rivers, however you can fish all year round on some still waters / lakes, subject to owners rules.  Martham Pits are just down the path and can be fished using a day ticket 12 months p.a.
The fishing on the River Thurne is free but you will need a national rod licence.
All year round / No Closed Season
But if you want to fish all year round you can stay at Moonriver holiday cottage and fish in Martham Pits at the end of the footpath, or drive there, it has a great range of fish including good sized Carp.  Day Tickets are available from the local Co-Op.  There are lots of other lakes in the area which do not have a Closed Season.
Trout Fishing Season
1 April – 29 October
Float Fishing
A simple but very effective method of fishing from our holiday cottage on the R Thurne, Norfolk Broads.
Lift method
It is well worth while to perfect the lift method as this can be very accurate and achieve large bags of tench and bream.
Trotting
The flowing water of the River Thurne and other rivers in the Norfolk Broads system will help you catch rudd, roach and chub.
Float choice essentials
Waggler – make sure that it is straight, anything bent, or that will bend with use is not good.
Alloy stem stick – a must for trotting as it helps stability.
Paint / varnish – Too much of either might make for a great display in the fishing tackle shop but will reduce its performance.
Colour – very important but remember that bright colours will not contrast well on certain water reflection.  Think about different varieties of sunshine reflection and water colour and what colours will stand out.
Body thickness – when using a large bait you will need a larger float body.  But when using a light bait you will want a thin tipped float.
Adaptor – Well worth buying and using.  It make changing floats so much quicker, creates less frustration and less damage during the day to your fishing line.
Silicone sleeve – they are cheap, dont damage the fishing line and make fishing float change easy and accurate.
Wind conditions – use a full bodied Waggler rather than a thin tipped one when it gets windy.
Luminous / chemical tip – great for night fishing.
Size does matter – when its windy use a long one as this will help to ensure that you can sink the fishing line.
Common sense – its not rocket science but you need to look at your tackle box before you go fishing, then consider the likely conditions and write a list of what you want.  Dont buy floats that look great in a fishing tackle display case, we all have those in our tackle boxes and they dont catch fish!
Still Water Float
Best bait – Casters, sweet corn, maggots
You might think that our self catering holiday cottage on the River Thurne at Martham, one mile upstream from Potter Heigham would never have still water fishing conditions.  Well we do twice a day for approximately an hour each time.
During slack water at high and low tide we enjoy not only still water fishing conditions but also some of the best fishing of the day!  If you can only fish for one hour during the day fish during slack water at night.  Our holiday cottage is on the headwaters of the River Thurne, Norfolk Broads and therefore does not get effected by salt water coming up river, but the movement of the tide does effect it and depending on rainfall the river can change from a steady flow to still water for an hour.
When fishing for rudd and roach you can use a fine tipped antenna float.  Its body form will let you use shot to lower the tip in the water to just the smallest dot which will then have the great benefit of detecting the smallest bite known to man.  When setting up your fishing rig you must plumb the bottom.  This will let you ensure that you present the bait just on the bottom after the rig and shot have settled in the still water.  Be ready to adjust the float depth because in certain conditions the rudd and bream will take the bait on the drop rather than when it gets to the bottom.
As with all fishing you must remain flexible because the rudd and roach may change their feeding depth at any time.  So when the fishing bites get slower think about what the fish might be doing and change you depth.  It costs just a small amount of effort to make these changes but it will be well worth while.
Dont disturb the rudd and roach shoal, always cast beyond where you think they are and sink the line with your rod tip.  When using a new line drip some washing up soap on the drum of line as this will also help remove the chemicals that have been used when making the line.  Floating line will be moved by wind, wavelets, floating debris, etc this will cause phantom bites and move your bait away from the shoal.
Ledgering Float
Best bait – lob worm, casters, sweet corn, maggots, trout pellet paste
The bream and tench on the river Thurne outside our self catering holiday accommodation usually feed on the bottom.  So you want to be sure that your bait is kept on the bottom as the river flow will otherwise bring it off the bottom as it streams past.
Fishing weight choice essentials
Weight / size – depending on the water flow speed you will need to have a variety of bombs in your fishing tackle box.
Locking shot  to be avoided as they pinch the fishing line and create a weakness, this is what causes the majority of line breakages and lost fish!
Drennan ring  the recommended method to attach weight.
Trotting Float
Best baits – maggots, castors, sweet corn, bread
Our self catering holiday cottage on the banks of the river Thurne is a great location for trotting as the water flow speed is just right except during slack water.
Alloy stem stick a must for trotting as it helps stability.  The super buoyant float is being dragged along by the water flow of the River Thurne with the shot and hook bait behind it, however when you create some drag on the fishing line the set up will change.  This will result in the reverse taking place, ie the hook bait will be moving downstream first with the alloy stem stick behind it.  The hook bait will therefore present in a far better way as it will wiggle in the current.  Another benefit of this method is that you will make a more effective strike.
Due to the nature of the river Thurne, its bottom, depth, water flow speed and width this is a very effective method.
Place your shot at even intervals between the alloy steam stick and the hook presenting your bait.
River Waggler Float
Best bait – sweet corn, casters, maggots, stewed hemp/wheat
The Roach and Rudd found in the River Thurne, Norfolk Broads outside our self catering holiday accommodation can be caught using this method.
The straight large bodied waggler float can be set up with the line floating on the surface when there is little or no wind and the rig below the float being over depth.
Lift Method Float
Best bait – sweet corn, bread, paste, casters, maggots
As I said earlier the Bream and Tench on the River Thurne and the Norfolk Broads can be caught using the lift method during the slack water period which creates still water conditions for an hour twice a day outside our self catering holiday home.
Set your fishing rig up applying all of your weight near the fishing hook and use a small peacock Waggler float.  What you must imagine when fishing is how the fish feeds in the conditions that are occurring at the time.  When a fish feeds on the bottom it will be feeding nose down unless it is a barbell or similar fish which has it mouth opening parallel to the bottom.  So when a Bream or Tench are bottom fishing its nose and mouth will be pointed downwards.  Then when it takes the bait the fishing weights that are all near the hook will be lifted upwards and the float will also lift as it is not being held down by any weight.  It is essential that you strike immediately when using this method.
As we all know Bream and Tench do not read fishing manuals so the float can react in other ways as well.
Night Fishing
Best baits  lob worm, maggots, trout pellet paste, bread
We recommend evening / night fishing on the river Thurne and the Norfolk Broads, particularly during slack water as was mentioned earlier.
We have installed an external power point outside our holiday cottage on the River Thurne on the Norfolk Broads, however please remember that water and electricity make for dangerous situations and we dont want anyone electrocuted!
Luminous / chemical tip fishing float, great for night fishing, a must have in your tackle box, ensure that you set your fishing float so that all of the tip can be seen or your eyes will become very tired and you will miss bites.
If you use lob worms at night you will catch eels!  So ensure that your fishing rig incorporates a swivel buckle as that will stop your fishing line being twisted and make it easier for you to take one rig off quickly and replace it with another.  If you plan on catching eels please remember to bring some newspaper with you as it is a big help when you are trying to hold the eel.