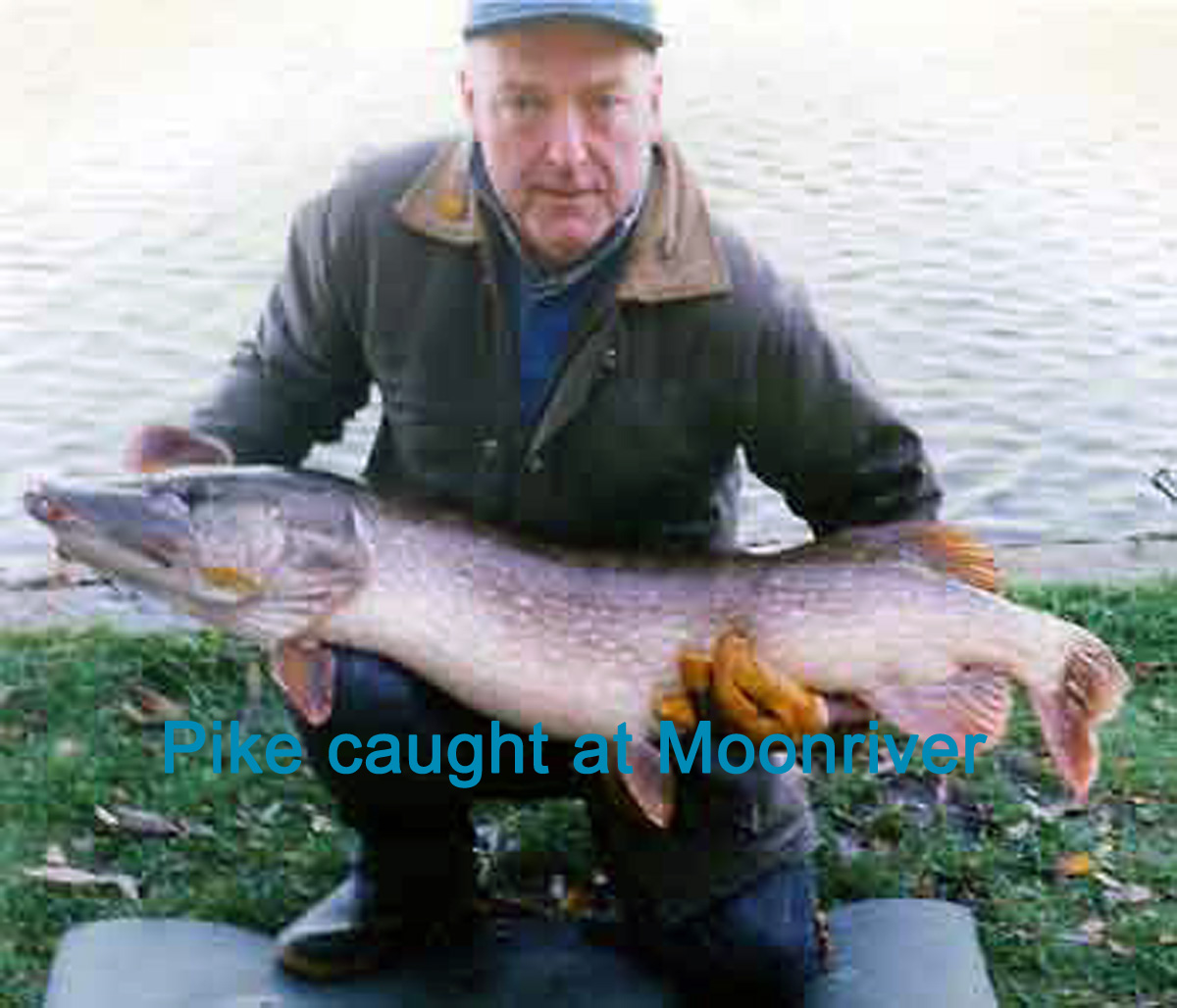 Fishing
1. Fishing & Bird watching – Moonriver holiday cottage, Martham, R. Thurne, Norfolk Broads
2. Guide to fishing and angling in East Anglia
2.1 Fishing Season – National flowing water
2.2 Float fishing
3. Night fishing
4. Summer piking on the Norfolk Broads – My Way
5. Martham Broad, Norfolk Broads
6. Day ticket fisheries – Norfolk – contact details
7. Local Tide Table
8. River conditions – water levels – "salt surge"
9. Fishing Competition
10. Pike – National River Caught League Table
11. EA Water Levels – Live Monitor – Potter Heigham
12. WebCam – Potter Heigham
1. Fishing from Moonriver holiday cottage, Martham, R. Thurne
The following freshwater fish can be caught from the garden of the Moonriver holiday cottage – Bream, Roach, Rudd, Pike, Perch, Ruff, Eels, Tench and the very occasional Trout. Pike of 42 & 36 lbs have been caught locally. The best fish from the garden have been, Bream 9+lbs, Pike 26+ lbs, Roach 2.3 lbs, Perch 1.5 lbs, etc. This year fishermen have caught 70 lbs bags of Bream every evening from our garden. This makes it an ideal Norfolk Broads waterside break.
Peace and quiet – no road noise what so ever!
Some of the best fishing is during "slack water", during the hour that the river stops moving when the High or Low tide is at its peak. This is the very best time to fish, particularly if slack water is during the evening, because your ground bait will stay in the same area as your hook bait. This is a great time to fish for any type of fish including Pike, Bream, Perch, Roach and Rudd. The sea / salt water does not reach our section of the River Thurne as we are at its head water, but the river rises / falls up to 18″ as you will see on the river bank piles. The Broads Authority Fishing Advisor has informed me that the salt water surges do not reach our area because of the river constriction caused by the small Potter Heigham bridge one mile down stream stops the surges at that point.
The closest fishing tackle shop is `Lathams` of Potter Heigham, Moonriver £195 – 750 pw, this can definitely be classified as a `Fishing Tackle Paradise` as it stocks everything from fresh and frozen baits to rods, reels and accessories – the prices are very good.
Great baits are lob worm, canned sweet corn and bread flake, please do not keep you baits inside our holiday home, there is a bait fridge in the tackle store in the garden.
Kendal Dyke, White Lees, Martham Floating Bridge Pool, Martham Broad, Hickling Broad, Horsey Broad and other excellent fishing marks are within a few minutes of the Moonriver holiday home, all of which regularly feature in the angling press.
Fishing Catch Book
In order to help visiting anglers we ask guests to complete an entry in the Fishing Catch Book, this will enable you to have a head start when you visit because you will see what techniques have been suitable for a variety of fish species.
2.1 FISHING SEASON – National – flowing water
Coarse Fishing
16 June to 14 March inclusive on all flowing waters / rivers in the UK.
This is the National fishing season restriction on all flowing rivers, however you can fish all year round on still waters / lakes, subject to owners rules.
All year round / No Closed Season
But if you want to fish all year round you can stay at Moonriver holiday cottage and fish in Martham Pits at the end of the footpath, or drive there, it has a great range of fish including good sized Carp. Day Tickets are available from the local Co-Op. There are lots of other lakes in the area which do not have a Closed Season.
Trout Fishing
1 April – 29 October
2.2 FLOAT FISHING
A simple but very effective method of fishing from our holiday cottage on the R Thurne, Norfolk Broads.
Lift method
It is well worth while to perfect the lift method as this can be very accurate and achieve large bags of tench and bream.
Trotting
The flowing water of the River Thurne and other rivers in the Norfolk Broads system will help you catch Rudd, Roach, Bream and Chub.
Float choice essentials
Waggler – make sure that it is straight, anything bent, or that will bend with use is not good.
Alloy stem stick – a must for trotting as it helps stability.
Paint / varnish – Too much of either might make for a great display in the fishing tackle shop but will reduce its performance.
Colour – very important but remember that bright colours will not contrast well on certain water reflection. Think about different varieties of sunshine reflection and water colour and what colours will stand out.
Body thickness – when using a large bait you will need a larger float body. But when using a light bait you will want a thin tipped float.
Adaptor – Well worth buying and using. It make changing floats so much quicker, creates less frustration and less damage during the day to your fishing line.
Silicone sleeve – they are cheap, dont damage the fishing line and make fishing float change easy and accurate.
Wind conditions – use a full bodied Waggler rather than a thin tipped one when it gets windy.
Luminous / chemical tip – great for night fishing.
Size does matter – when its windy use a long one as this will help to ensure that you can sink the fishing line.
Common sense – its not rocket science but you need to look at your tackle box before you go fishing, then consider the likely conditions and write a list of what you want. Dont buy floats that look great in a fishing tackle display case, we all have those in our tackle boxes and they don`t catch fish!
STILL WATER FLOAT
Best bait – Casters, sweet corn, maggots
You might think that our self catering holiday cottage on the River Thurne at Martham, one mile upstream from Potter Heigham would never have still water fishing conditions. Well we do twice a day for approximately an hour each time.
During "slack water" at high and low tide we enjoy not only still water fishing conditions but also some of the best fishing of the day! If you can only fish for one hour during the day fish during slack water at night. Our holiday cottage is on the headwaters of the River Thurne and therefore does not get effected by salt water coming up river, but the movement of the tide does effect it and depending on rainfall the river can change from a steady flow to still water for an hour.
When fishing for rudd and roach you can use a fine tipped antenna float. Its body form will let you use shot to lower the tip in the water to just the smallest dot which will then have the great benefit of detecting the smallest bite known to man. When setting up your fishing rig you must plumb the bottom. This will let you ensure that you present the bait just on the bottom after the rig and shot have settled in the still water. Be ready to adjust the float depth because in certain conditions the rudd and bream will take the bait on the drop rather than when it gets to the bottom.
As with all fishing you must remain flexible because the rudd and roach may change their feeding depth at any time. So when the fishing bites get slower think about what the fish might be doing and change you depth. It costs just a small amount of effort to make these changes but it will be well worth while.
Don`t disturb the rudd and roach shoal, always cast beyond where you think they are and sink the line with your rod tip. When using a new line drip some washing up soap on the drum of line as this will also help remove the chemicals that have been used when making the line. Floating line will be moved by wind, wavelets, floating debris, etc this will cause phantom bites and move your bait away from the shoal.
LEDGERING FLOAT
Best bait – lob worm, casters, sweet corn, maggots, trout pellet paste
The bream and tench on the river Thurne outside our self catering holiday accommodation usually feed on the bottom. So you want to be sure that your bait is kept on the bottom as the river flow will otherwise bring it off the bottom as it streams past.
Fishing weight choice essentials
Weight / size – depending on the water flow speed you will need to have a variety of bombs in your fishing tackle box.
Locking shot – to be avoided as they pinch the fishing line and create a weakness, this is what causes the majority of line breakages and lost fish!
Drennan ring – the recommended method to attach weight.
TROTTING FLOAT
Best baits – maggots, castors, sweet corn, bread
Our self catering holiday cottage on the banks of the river Thurne is a great location for trotting as the water flow speed is just right except during slack water.
Alloy stem stick – a must for trotting as it helps stability. The super buoyant float is being dragged along by the water flow of the River Thurne with the shot and hook bait behind it, however when you create some drag on the fishing line the set up will change. This will result in the reverse taking place, ie the hook bait will be moving downstream first with the alloy stem stick behind it. The hook bait will therefore present in a far better way as it will wiggle in the current. Another benefit of this method is that you will make a more effective strike.
Due to the nature of the river Thurne, its bottom, depth, water flow speed and width this is a very effective method.
Place your shot at even intervals between the alloy steam stick and the hook presenting your bait.
RIVER WAGGLER FLOAT
Best bait – sweet corn, casters, maggots, stewed hemp/wheat
The Roach and Rudd found in the River Thurne, Norfolk Broads outside our self catering holiday accommodation can be caught using this method.
The straight large bodied waggler float can be set up with the line floating on the surface when there is little or no wind and the rig below the float being over depth.
LIFT METHOD FLOAT
Best bait – sweet corn, bread, paste, casters, maggots
As I said earlier the Bream and Tench on the River Thurne and the Norfolk Broads can be caught using the "lift method" during the slack water period which creates still water conditions for an hour twice a day outside our self catering holiday home.
Set your fishing rig up applying all of your weight near the fishing hook and use a small peacock Waggler float. What you must imagine when fishing is how the fish feeds in the conditions that are occurring at the time. When a fish feeds on the bottom it will be feeding nose down unless it is a barbell or similar fish which has it mouth opening parallel to the bottom. So when a Bream or Tench are bottom fishing its nose and mouth will be pointed downwards. Then when it takes the bait the fishing weights that are all near the hook will be lifted upwards and the float will also lift as it is not being held down by any weight. It is essential that you strike immediately when using this method.
As we all know Bream and Tench do not read fishing manuals so the float can react in other ways as well.
3. NIGHT FISHING
Best baits – lob worm, maggots, trout pellet paste
We recommend night fishing on the river Thurne and the Norfolk Broads, particularly during slack water as was mentioned earlier.
We have installed an external power point outside our holiday cottage on the River Thurne on the Norfolk Broads, however please remember that water and electricity make for dangerous situations and we dont want anyone electrocuted!
Luminous / chemical tip fishing float – great for night fishing, a must have in your tackle box, ensure that you set your fishing float so that all of the tip can be seen or your eyes will become very tired and you will miss bites.
If you use lob worms at night you will catch eels! So ensure that your fishing rig incorporates a swivel buckle as that will stop your fishing line being twisted and make it easier for you to take one rig off quickly and replace it with another.
4. Summer piking on the Norfolk Broads
My Way – Peter Waller (C) http://web.archive.org/web/20060903032715/
http://www.predator-fishing.co.uk/
2006 All rights reserved, no reproduction without prior permission
Let me put my pedigree on the line; I`ve been at it a long time! Seriously, lure fishing has been my passion since the mid 1950`s. In that time I have fine-tuned a successful technique for the Broads, where I live. Success is something that I keep reasonably quiet about. Not because I don`t catch but to do otherwise invites an influx of fish killing part-timers. Not only that, fishing solo, in a small boat, as I do means the required photograph is just not possible. I am not going to tow a pike to the bank, sacked until I can go through the routine of the regulation photo-call. I would rather hand and unhook the pike in the water. So, if you need photographic proof of my ability then sorry, cant help! All I can say is, read on and judge for yourself. In the meantime, sat on my Black Shakespeare Tackle Box, here is Summer Piking, my Way!
Summer piking is simple. The pike hang round the margins. Watch for the signs, a heron standing in the margin is the number one giveaway. Where he is where the pike are. Mother ducks take their young into the margins to feed. They might feed for half an hour or more, without alarm. But suddenly all hell lets loose as the ducks flee as a pike goes on the feed. Almost all my summer caught twenties have been located because of ducks taking fright. My theory being that it is only bigger pike that eat ducks. Take a note of where other anglers are catching bream. Bream have fixed patrol routes. If these go near that heron you know you will be onto a bigger fish. Cormorants are another giveaway, they feed on what pike feed on, simple. Watch, as the tide drops. There is a magic moment when the receding tide triggers a pike into moving. The reeds part as they leave their lair. Magic, it`s time to catch! A roach, skimming across the surface, like a stone thrown by a kid who is playing "ducks & drakes", determined to escape the hunting pike; an eel twinning itself around a reed stem, lifting itself clear of the water, signs to be savoured. Another, literally stirring giveaway, is rowing along a shallow margin, watching for tail swirls in the mud. Without warning, all around you, sometimes more than can be counted, swirls of mud. And who says pike don`t form shoals!
Some things are better left in to soak, but, during the summer, not a dead bait! I say that with great sincerity as, during that time of the year, pike are inclined to gorge dead bait. Not so with a lure, lip or scissor hooking being more usual. That aside, in my book, summer lure fishing is, without question, a most enjoyable means by which pike can be caught. Successful too. How many soakers of mackerel section can claim to have caught forty and fifty pike in a day? I know that the "pike fishing guide", Charlie Bettell has, as has yours truly.
So, having found your fish, how to catch them. After owning scores of rods and reels I feel that I now have the ultimate outfit for the Broads. Brundall Angling market the Retrieve Technique range of rods. Their number five model, rigged for a multiplier, is a gem. A steely action for setting the hook, a lively tip to flick out even a small bait, backbone for handling bigger lures, the ability to cope with a small perch or the biggest pike around, as I say, a gem. Linked to a Shimano Curado and the combination is complete. I am blessed with living besides the Broads. I am able to fish thirty or forty hours per week during the summer. This is terribly demanding on tackle. The only line that I have found to survive this kind of hammering is Fireline. The surface quickly fluffs up but the strength remains. Some lines, such as those with an outer case and an inner core, can be dangerous for pike. If the "outer" becomes nicked on an obstruction, their integrity is destroyed, their strength suddenly reduced to practically nil.
So what goes on the end? Apart from a good trace, and the Fox ones take some beating, I would suggest being totally unfashionable and clip on a biggish spoon. Above the trace, about eighteen inches from the lure, pop a Roberts tackle lift. It`s a simple device that sea fishermen use to lift their tackle clear of obstructions on retrieve. It planes to the surface, lifting quite heavy tackle. It`s a handy tip for dead-baiters fishing over obstructions. Linked to a big spoon it produces an incredibly versatile and effective lure. Rip it across the surface, let it sink back and drawer it back to the top. Sink and draw style, sub surface, dropped to the bottom and jerked back to life. It catches and goes on catching. The summer fishing grounds of the Broads seldom exceed one meter in depth. This one technique allows you to explore every inch of that water with great success. Cast hard against the reeds, drop into every nook and cranny, expect, and get, adrenaline rushing takes. It`s not for the dickhead or weak hearted. Sound tackle and sound technique is the order of the day. Unfortunately it can be too easy and those who are likely to cause a fish to die can and do catch fish. It`s a time when pike should be released quickly, unhooked whilst in the water, spared the obligatory photo-shoot. Hot days and hard fights are not good news for pike that are kept out of the water one second longer than necessary. Gassing up does not happen to pike quickly returned to their environment.
Okay, so you believe in plugs. Give them a try but, in my experience, a well fished spoon, about four or five inches long, will out-fish any plug on summertime Broadland pike. Its exciting fishing when a pike, even a twenty pounder, hits the spoon with such force that the fish totally clears the surface, then lands with a forceful thrash of its tail, splashing the angler and surging off on a thirty yard dash for freedom. That`s summer fishing, when pike are real scrappers, unlike the winter fish that is tame in comparison.
There is just one other thing. To fish the Broads with consistent success means using a rowing boat. A rowing boat rowed quietly! Not some big, brash, outboard powered fish frightener. If you follow my fish finding advice, approach the fish holding areas with stealth and finesse, then success is likely to be yours!
Take care, tight lines and may your fish be long ones.
(C)http://web.archive.org/web/20060903032715/
http://www.predator-fishing.co.uk/
2006 All rights reserved, no reproduction without prior permission
5. Martham Broad, Norfolk Broads
http://www.norfolkanglers.com
Martham Broad is less than a mile from Moonriver self catering holiday cottage.
The Upper Thurne Broads within northern Broadland have long been recognised as an internationally important area for ducks and geese. Large flocks spend the winter on the open water of Hickling Broad, Horsey Mere and Martham Broads where they feed and roost. At times the Upper Thurne Broads can support up to ten thousand waterfowl.
Martham Broads have long been recognised for their particular levels of purity in a rather hostile saline rich environment have been protected from access to maintain this. They have also been the hub of more recent pike angling interest due to two record pike (captors: Fickling and Amies) having been captured from the river approaching these two Broads.
Angling and boat access has been limited for many years and will remain subject to these restrictions for the foreseeable future.
If you want a pike fishing experience of a life time then take the effort to apply for a permit, details below.
Angling access is available on the North Broad only by permit from the Norfolk Wildlife Trust warden. Norfolk Wildlife Trust, Bewick House, 22 Thorp Road, Norwich, NR1 1RY.
Telephone 01603 625540
Fax 01603 598300
Email admin@norfolkwildlifetrust.org.uk
Or if you want another great location then access this link –
http://www.thurnefisheries.co.uk/
The image here provides an insight into the character of two Broads at Martham and the coloured areas indicate the wildfowl refuges that have been set up for this coming winter period.The South Broad being inaccessible at all times!
Recommended Voluntary Code of Conduct
1: Avoid refuge areas if at all possible.
2: Do not use petrol outboards within the Hickling Broad reserve areas. If available,use electric outboards or oars to move swims within these areas.
3: Approach and navigate sanctuary areas with caution, stay close to the reed beds and try to avoid disturbing flocks of water birds.
4: Go quietly, be seen but not heard.
Please observe the Code of Conduct whenever possible and help both wildlife and angling on the Thurne System in the future!
6. Day ticket fisheries – Norfolk – contact details
Aldeby Hall Farm Pits (Beccles, Norfolk) 01502 677648
Barford Fisheries (Barford, Norfolk) 01603 759624
Bartles Lodge (Elsing, Norfolk) 01362 637177
Barton Broad (Horning, Norfolk) 01692 630740
Bawburgh Lakes (Norwich, Norfolk) 01603 630187 or 01263 732752
Beeston Lake (Neatishead, Norfolk) 01692 630688
Billingford Pit (Billingford, Norfolk) 01362 694428
Blickling Lake (Aylsham, Norfolk) 01263 734181
Booton Clay Pit (Booton, Norfolk) Mr Brownsell 01603 871415
Brickling (Aylsham, Norfolk) 01263 731994
Bridge Inn Fishery (Lenwade, Norfolk) 01603 872248
Bridge Lake (Lenwade, Norfolk) 01603 426834
Broome Pits (Broome, Norfolk) 01986 895188
Buckenham Pits (Ickburgh, Norfolk) 01842 878400
Bure Valley Lakes (Itteringham, Norfolk) 01263 587666
Cantley Sugar Factory (Cantley, Norfolk) 01493 700351
Catch 22 Lakes (Lyng Eastough, Norfolk) 01603 872948
Chapel Road Lake (Roughton, Norfolk) 01263 761369
Chiswick Pit (Stow, Norfolk) 01366 383194
Cobbleacres Park Lakes (Hevingham, Norfolk) 01603 754305
Colton Lakes (Norwich, Norfolk) 01603 432327
Cranworth Carp Lake (Cranworth, Norfolk) 01362 820 702
Cross Drove Fishery (Thetford, Norfolk) 01842 828102
Decoy Farm (Ormesby St Michael, Norfolk) 01493 731294
Diss Mere (Diss, Norfolk) 01379 640430
Dunham Carp and Tench Lakes (Necton, Norfolk) 01760 725286
Felbrigg Hall Lake (Cromer, Norfolk) 01692 403162
Felgrigg Lake (Holt, Norfolk) 01263 712366
Felmingham Mill Lakes (Aylsham, Norfolk) 01263 735106
Felthorpe Lake (Norwich, Norfolk) 01603 754408
Foster`s End Pit (Blackborough End, Kings Lynn, Norfolk) 01553 671545
Fosters End Pits (East Winch, Norfolk) 01366 387114
Fritton Lake (Great Yarmouth, Norfolk) 01493 488288
Gimmingham Lakes (Cromer, Norfolk) 01263 720432
Great Ouse Cut-Off Channel (Hilgay Bridge, Norfolk) 01553 671545
Gunthorpe Hall Lake (Melton Constable, Norfolk) 01263 861373
Gunton Park Lake (Aylsham, Norfolk) 01263 768284
Haddiscoe Pit (Haddiscoe, Norfolk) 01502 716716
Hall Farm (Burgh Castle, Norfolk) 01493 781986
Hall Farm Lakes (Yarmouth, Norfolk) 01493 781986
Havingerland Lake (North Walsham, Aylesham, Norfolk) 01603 871302
Heacham Park (Heacham, Norfolk) 0778 8937338
Hevingham Lakes (Hevingham, Norfolk) 01603 754368
Hickling Broad (Hickling, Norfolk) 01733 565159
Highfields Fishery (Thorpe Abbots, Norfolk) 01379 640430
Hilgay Fisheries (Hilgay, Norfolk) 01366 385661
Hinderclay Fisheries (Long Green, Norfolk) 01379 890110
Holkham Lake (Wells-Next-The-Sea, Norfolk) 01328 710227
Horsey Mere (Horsey, Norfolk) 01692 598314
Lakeside Caravan Park (Denver, Norfolk) 01366 383291 or 01366 387074
Lakeside Fisheries (East Bilney, Norfolk) 01362 861015
Letheringsett Fishery (Holt, Norfolk) 01263 588323
Little Dunham Carp Lakes (Swaffham, Norfolk) 01760 725286
Lyng Pit (Lyng, Norfolk)
Martham Pits (Martham, Norfolk) 01493 748358 Tickets from Heads grocers at top of Cess Road, Martham
Middle Level Drain, Crooked Chimney to Mortons Bridge (Outwell, Norfolk) 01553 671545
Mill Farm Lakes (Great Ellingham, Norfolk) 01953 452769
Nar Valley Fisheries (Pentney, Norfolk) 01553 841690
Narborough Trout & Course Lakes (Narborough, Norfolk) 01760 338005
Norfolk Broads (Filby, Norfolk) 01692 536471
Ormesby Rollesby (Ormesby, Norfolk) 01493 731441
Pisces Fishery (Welney, Norfolk) 01354 610257
Pocohontas Lake (Heacham, Norfolk) 07788 937338
Ponthouse Lake (Heacham, Norfolk) 07788 937 338
Railway Lake (North Elmham, Norfolk) 01328 862543
Rectory Farm Fishery (Hingham, Norfolk) 01953 850308
Reepham Fisheries (Reepham, Norfolk) 01603 870829
Relief Channel (Stowbridge, Norfolk) 01553 671545
River Ant (Sutton, Norfolk) 01692 536471
River Bure (Coltishall, Norfolk) 01692 536471 or 01603 782453
River Bure (Wroxham, Norfolk) 01603 614114
River Thurne (Martham, Norfolk) 01692 598314 or 01692 670080 or 01493 740565
River Wensum (Elmham Mill, Norfolk) 01362 668107
River Wensum (Lyng, Norfolk) 01603 630187
River Wensum (Norwich, Norfolk) 01603 426834
River Wensum (Swanton Morley, Norfolk) 01692 536471
River Wissey (Hilgay, Norfolk) 01553 671545
River Yare (Beauchamp Arms, Norfolk) 01603 483923 or 07979 001351
River Yare (Brundall, Norfolk) 01603 715289
River Yare (Trowse, Norfolk) 01692 536471
River Yare (Wroxham, Norfolk) 01603 426834
Rockland Broad (Rockland St Mary, Norfolk) 01508 825655
Salthouse Broad (Salthouse, Norfolk) 01603 401062
Scottow Pond (Scottow, Norfolk) 0169 269 671
Scoulton Mere (Scoulton, Norfolk) 01953 851739
Shallow Brook Lake (New Costessey, Norfolk) 01603 747667
Shallowbrook Lakes (Norwich, Norfolk) 01603 747667
Shropham Pits (Shropham, Norfolk) 01603 405341
Snetterton Pits (Snetterton, Norfolk) 01842 764312
Sovereign Lakes (Narborough, Norfolk) 01760 227288
Sparham Pools (Lyng, Norfolk) 01603 870253
Stonegate Lake (Swaffham, Norfolk) 01760 44323
Swangey Lakes (Attleborough, Norfolk) 01953 452907
Taswood Lakes (Tasburgh, Norfolk) 01508 470919
Tatts Pit (Downham Market, Norfolk) 01366 384338
Taverham Mills (nr Norwich, Norfolk) 01603 861014
Thompson Water (Merton, Norfolk) 01953 883370
Tottenhill Pit (Kings Lynn, Norfolk) 01553 671545
Trinity Broads (Great Yarmouth, Norfolk) 01493 368142
Wades Pit (Wymondham, Norfolk) 01953 605505
Walnut Tree Fisheries (Attleborough, Norfolk) 01953 453662
Waveney Valley Lakes (Wortwell, Norfolk) 01986 788676
Wensum Fisheries (Costessey, Norfolk) 01603 423625
Weybread Fishery (Weybread, Norfolk) 01379 588141
Willowcroft (Pentney, Norfolk) 01760 338293 or 07901923
Wilsmore Water (Hempton, Norfolk) 01328 862543
Wood Lakes (King`s Lynn, Norfolk) 01553 810414
Woodlands (Kings Lynn, Norfolk) 07780 673416
Woodrising Water Meadows (Woodrising, Norfolk) 01362 820702
Worthing Pits (Dereham, Norfolk)
Yew Tree Lakes (Wortwell, Norfolk) 01986 788570
7.Tide Tables
If you want a copy of the Tide Tables for the duration of your stay then please visit the following website, the river level can vary up to 18" below High and Low Tide. Please note that NO saltwater comes as high up the river as Moonriver –
http://www.norfolk-broads.org/tides/tide_report.asp
8. River conditions – water levels – "salt surge"
Occasionally, a "salt surge" may occur. This is when high Spring tides, Low Pressure over the North Sea, and a Northerly / North West wind coincide and push the sea south towards the East Coast and therefore salt water up the river system from Great Yarmouth. In the 20+ years that I have owned Moonriver a "salt surge" has never reached further upstream than Potter Heigham Bridge which is 1 mile downstream from Moonriver. The Broads Authority Fisheries Officer has told me that a "salt surge" has never passed Potter Heigham Bridge because the river is restricted at that point and the surge has lost its power. Fortunately Martham is at the top end of the river system so the salt surge has lost it power by the time it reaches Potter Heigham.
Fish swim away from the "salt surge", most of them swim upstream to our riverbank and stay there because the water quality is excellent and the insect / food life is ideal. This results us in having such good fishing.
9. Fishing Competition
League action hits jackpot as the Thurne strikes again
The scenes on the banks of the River Thurne on Saturday were perhaps reminiscent of Billingsgate fish market during the reign of Queen Victoria.
Coarse fish then were in great demand as a staple foodstuff. Fortunately the plundering of many tonnes of broads pike, perch, roach, tench and even slimy bream to satisfy market forces – one royal household in one year ate its way through 1,587 carp, 140 pike, 140 tench, 160 eels, 25 bream and 15 perch – was outlawed by acts of parliament.
And that is the point where any similarity between 19th century fish markets and last Saturday's staggering capture of 1,350lbs of roach and bream ends; after being weighed, they were all returned alive.
This was a record return for the NDAA league that coincided with an Environment Agency announcement that fish surveys this autumn had revealed some of the most dense shoals of coarse fish ever recorded on our tidal rivers.
Tony Gibbons, the chairman of the NDAA and a member of the Broads Angling Strategy Group, where fisheries officer Steve Lane reported his splendid news, said Saturday's catches, headed by Steve Clarke's 53lb 2oz, were certainly the best since the competition began many years ago.
"We pegged the River Thurne from Potter Heigham to Martham and finished with massive catches of roach and bream for an average of 30lbs per man. More than 40lbs was required to make the top six," he said.
"That's why our rivers are rated the most prolific and fairest venues in Britain, despite last year's casualties from the sea floods."
Clarke, a 56-year-old financial adviser from Saffron Walden and captain of the experienced Maver Image trio that head the table, said his catch consisted of 100 skimmer bream and 45 roach.
"I drew a peg on the Potter Heigham stagings and caught fish from the first whistle on a pole rig, fishing worm or maggot about six to seven metres out.
"My team-mates, John Southgate, who won his section, and Jimmy Brooks, second in his, ensured a four penalty-point victory to keep us in the hunt for the shield."
The best of the rest were triple broads champion Lee Klimczuk (Bait Tech) with 48lb 15oz, Warren Martin (Unreliables) 45lb 12oz, John Southgate (Maver) 44lb 2oz, David Roe (Angling Direct Black) 43lb 10oz and Mark Pollard (Suffolk AD) 42lb 6oz.
10. Pike – Top 10 Biggest River Pike
http://www.gofishing.co.uk/Angling-Times/Section/News–Catches/General-News/A-34lb-Royalty-pike-on-first-cast/
The R Thurne has 5 top enteries out of 7 because the water quality is so good their is plenty of food for silver fish, which results in plenty of food for Pike and Perch
45lb 8oz
John Goble, River Thurne, 2009
http://www.gofishing.co.uk/Angling-Times/Section/News–Catches/General-News/March-2009/Angling-world-reacts-to-enormous-pike-capture
Caught just 200yds from Moonriver
42lb 2oz
Derrick Amies, River Thurne, 1985
42lb
FishingsGreat.blogspot.co.uk/2010/11two-books.html
Mervyn Watkins, River Barrow, 1964
41lb 6oz
Neville Fickling, River Thurne, 1985
41lb 4oz
http://thepikepool.blogspot.co.uk/2011/12/pool-view-talks-to-neville-fickling.html
Jeff Mills, River Thurne, 1986
41lb
Alan Underhill, River Suck, 1980
39lb 12oz
Karl Gidney, Thurne system, 2008
www.Broads.co.uk/pdf/broads-angle.pdf
Pike Forum
www.PikeAngler.forumotion.com
www.PikeAngler.co.uk
11. EA Water Levels – Live Monitor – Potter Heigham
The Environmental Agency have a website which constantly monitors water levels at Potter Heigham so that you can see if the river is in flood –
http://www.environment-agency.gov.uk/homeandleisure/floods/riverlevels/riverstation.aspx?StationId=6217&RegionId=1&AreaId=2&CatchmentId=5
If anyone see signs of fish in distress, they are asked to call the Environment Agency hotline on 0800807060.
12. WebCam – Potter Heigham
If you would actually like to see the river conditions at Potter Heigham please look at this live web cam link –
http://3rrcams.horningsc.co.uk/